Responsible consumption and production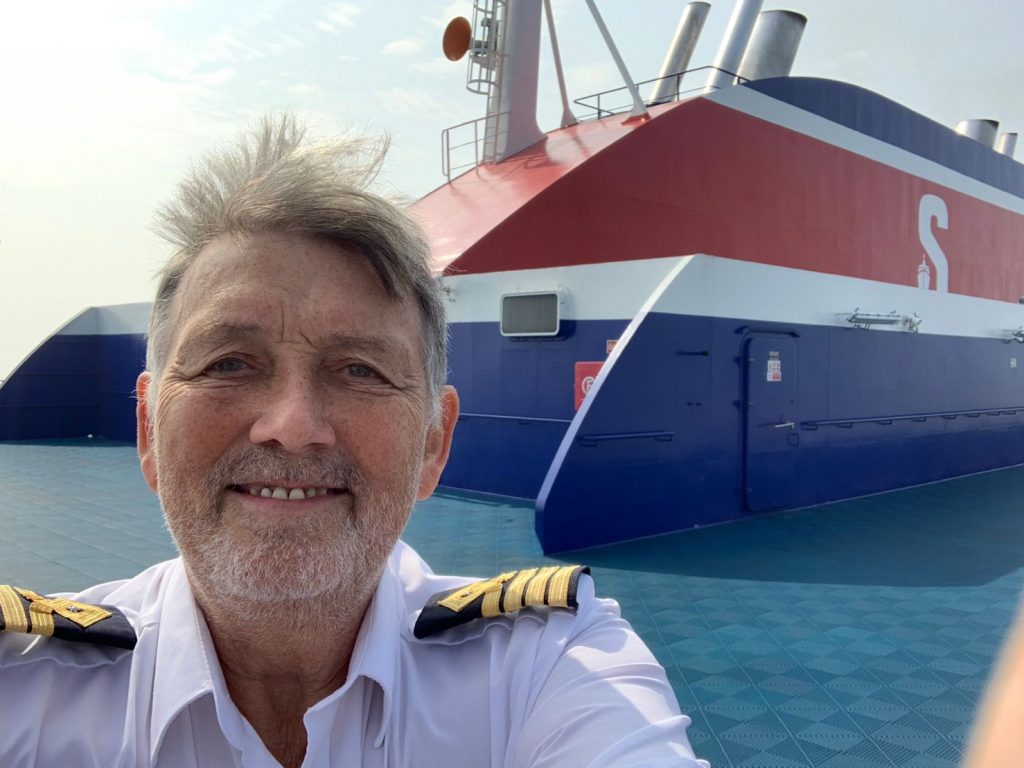 We checked in with Captain Andrew Parker as he approached the final leg of a long but successful journey.
"We are now in the western Mediterranean with Algeria to the South and Spain to the north, expecting to arrive in Gibraltar early hours of tomorrow morning for services. Then for me the final leg to Bristol, UK where I will disembark and handover the ship to the operational master. Mixed emotions as I know this is probably my last seagoing voyage as Master but I will ever be grateful to my colleagues at Stena Line for this amazing opportunity!"
After the successful delivery of Stena Estelle earlier this year, Captain Andrew Parker was tasked to do the same for us with Stena Ebba. Andy is a skilled veteran master and passionate seafarer with safety and sustainability close to his heart.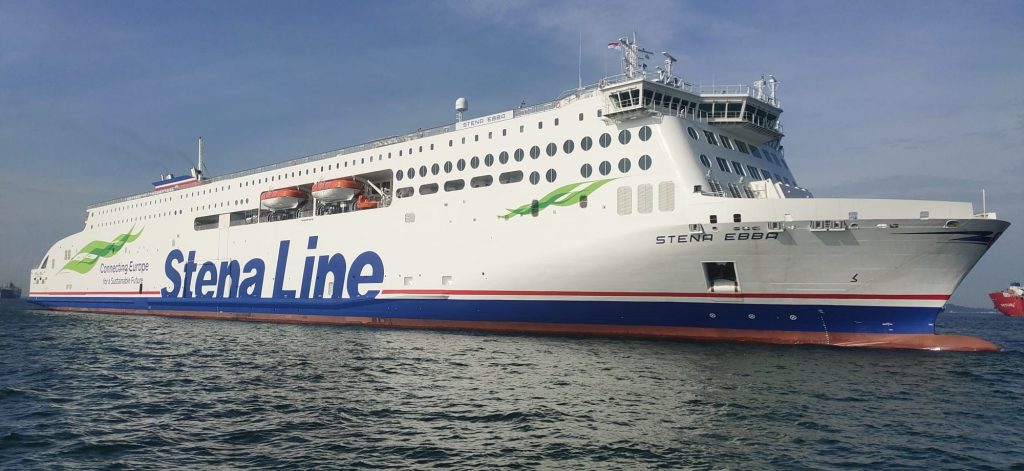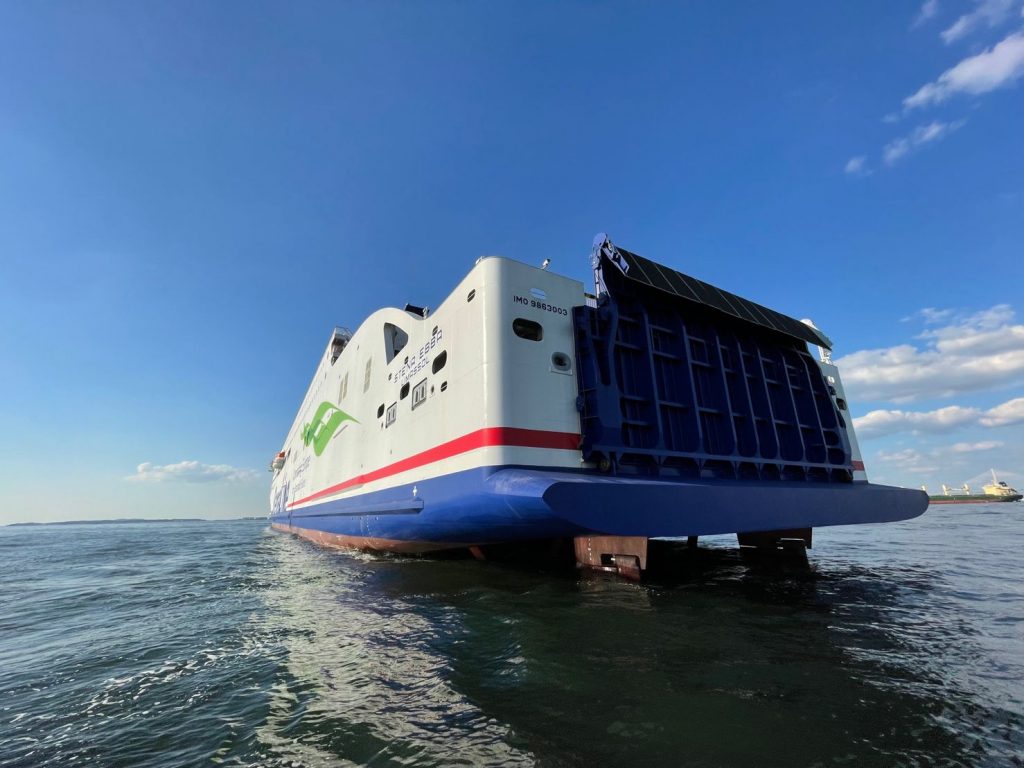 Having berthed the ship in Yantai, Shandong Province, China, Andy oversaw the loading of Ebba for the maiden delivery voyage back to Europe. Why send an empty vessel when we can reduce carbon emissions by filling it with cargo and reducing the number of vessels that would otherwise take up space on other vessels? As a further effort towards our green agenda, the voyage was conducted at best economical speed.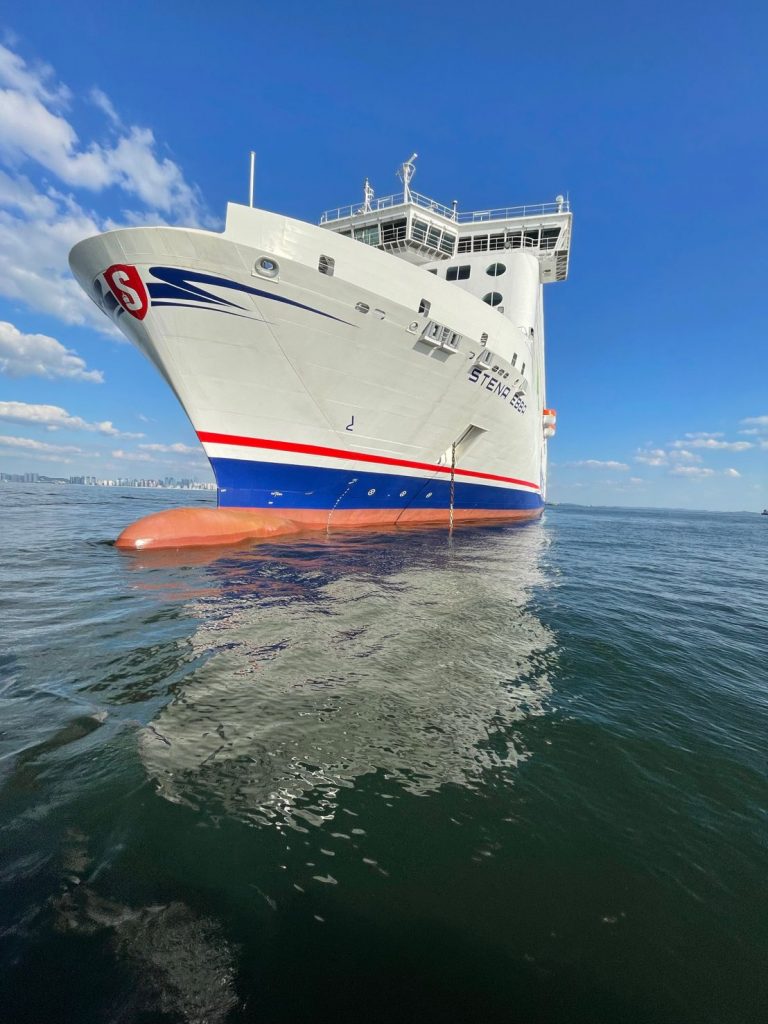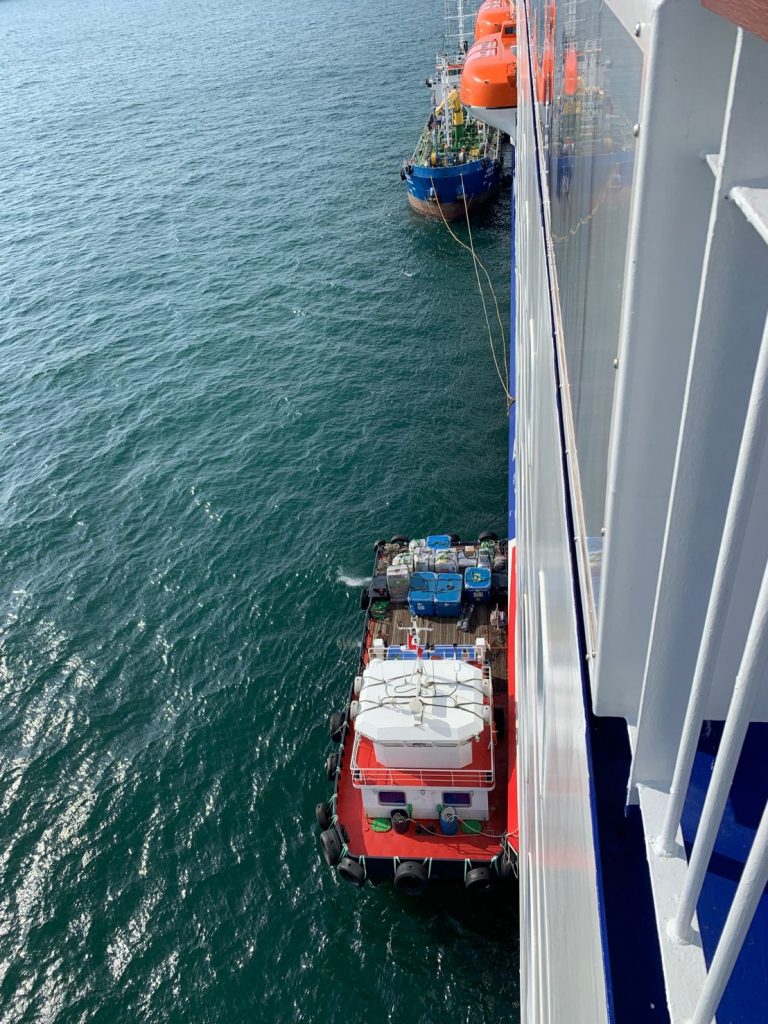 The load consisted partly of hundreds of electric vehicles bound for the UK – feels good to contribute to electrifying the European car market!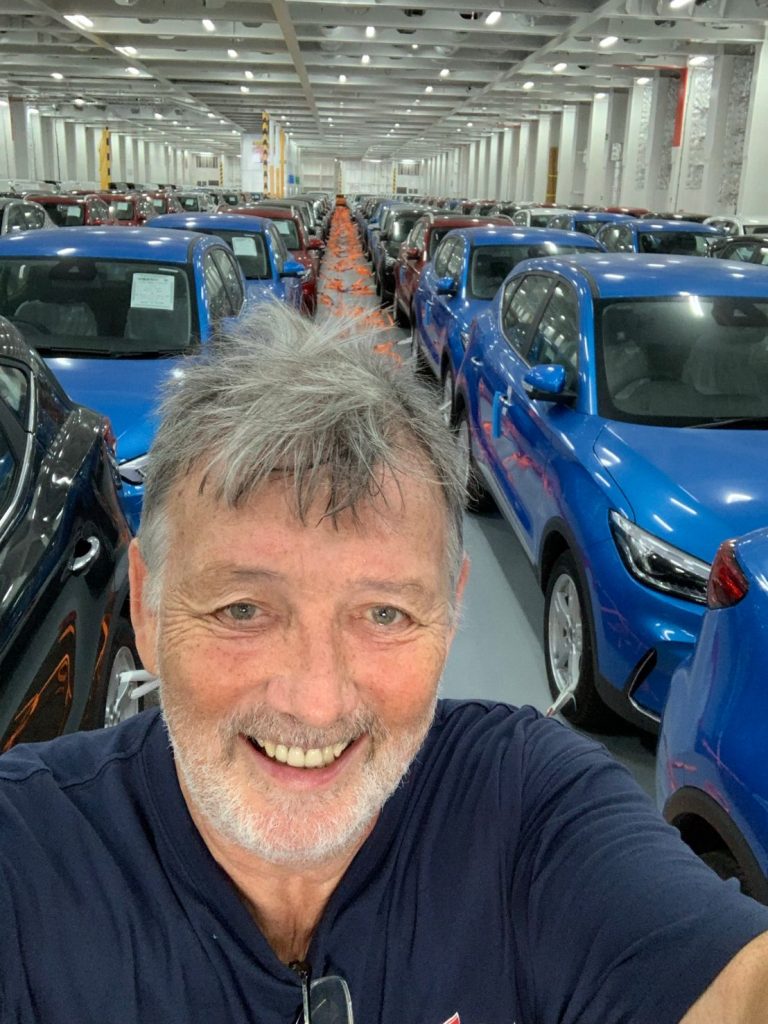 The route went from the South China Sea with a first pit stop in Singapore to load fuel, freshwater, provisions and so on, and unloading waste. From Singapore the voyage continued across the Indian Ocean and the Red Sea through the Suez Canal to the Mediterranean Sea.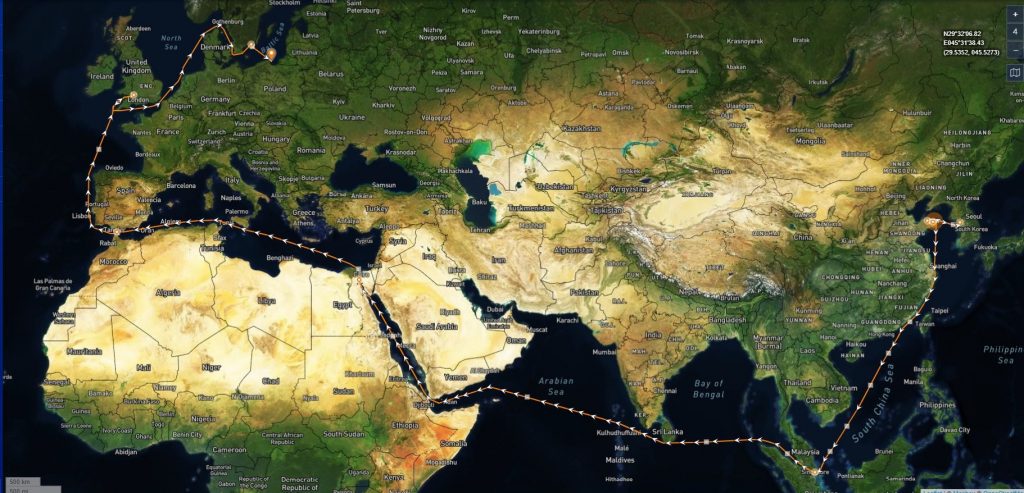 "The ship has performed really well throughout the entire journey! Thanks to a relatively calm trip and no technical issues, we used some time onboard to upskill the crew on safety procedures by conducting both a fire drill and also a simulation of a man overboard situation – this was highly appreciated by the team.
Also, during the voyage we celebrated 60 years of Stena Line. Our chef baked an amazing cake for us all – a delivery crew of Chinese, Polish (and one lonely British) ???? seafarers bringing this fine vessel back to her new home in the Baltic Sea.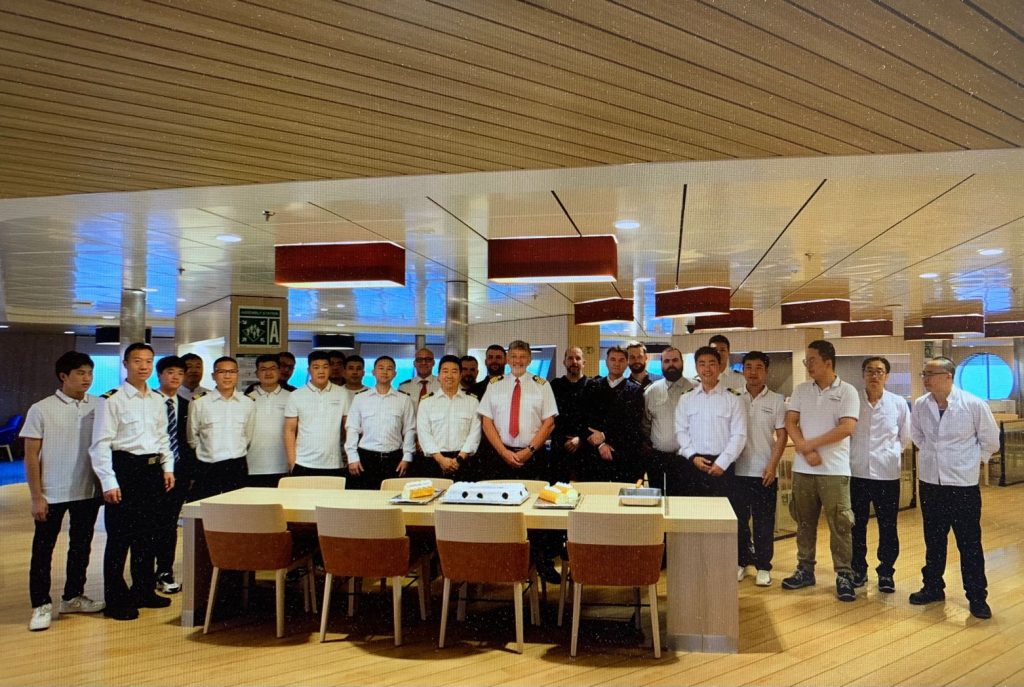 Stena Line is truly a caring diverse family of real professionals always striving for excellence in everything they do. I feel nothing but pride being a part of that family for the last 20 years. 22,640 sea miles this year and I'll never forget each one.
I feel so privileged to have been given this opportunity at the end of my seagoing career. I also want to thank my amazing wife Karen from the bottom of my heart for putting your own feelings and needs to one side to wholeheartedly support me in this venture. I can't wait to be home with my family again very very soon."
Many thanks to Andy and his skilled crew for excellent navigation of our Stena Ebba and we wish you a safe last leg of the journey back to Europe and to you family and friends in the UK!