Affordable and clean energy
On 26 March 2015, Stena together with several partners, including Methanex, Wärtsilä and EU's Motorways of the Seas project, made history when the Stena Germanica, converted to the world's first methanol powered RoPax ferry, started operating on the Göteborg – Kiel route. The dual-fuel system onboard Stena Germanica allows the vessel to run on both methanol and diesel fuel and since then it is a part of the daily operation. Methanol is a fossil fuel, but cleaner than traditional marine fuel. Sulphur and particles are reduced by 90 % and nitrogen with 60 %. The conversion project was unique and established methanol as a marine fuel.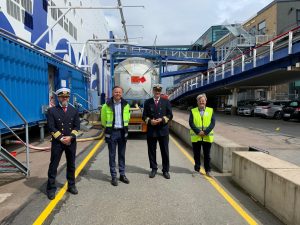 On 22 June 2021 Stena took the next step by refueling Stena Germanica with recycled methanol from residual steel gases. The steel industry and maritime sector are two of the world's biggest emitters of CO2, accounting for as much as 8 % and 2.5 % of CO2 emissions, respectively. The EU-funded FReSMe project explores the possibilities to convert CO2 to methanol via steel production to power marine transport. Stena is one of many partners in then project, which also includes the Swedish steel production company SSAB and the Swedish metals research institute Swerim.
"A great collaboration between the steel industry and maritime, showing there are ways of drastically reducing climate impact by working together. For Stena Line this is another proof of concept for our methanol conversion and a bridge towards fossil free shipping."

Erik Lewenhaupt, Head of Sustainability at Stena Line.