In our yearly sustainability overview "A sustainable journey 2019/2020" you can read more about how we deliver on our sustainability targets, as well as learn more about our highlights within our five focus areas; Good health and well-being, Affordable and clean energy, Responsible consumption and production, Gender equality, Life below water.
These are our highlights for 2019/2020:
 

Reduced almost all single-use plastic onboard and substantially improved share of recycled material in our offices, ports and terminals.

 
Reduced the use of harmful chemicals and detergents. The newly introduced Stena

Estrid

 and Stena Edda are best in class with 80 % Eco

–

label

 chemicals

. 

 
Increased the number of female leaders in the company. In total 20 % of managers are females.
Lowered our total CO2 emissions (-1,7%) as well as per 

ton

/

km

 (-3,4%) which measures energy efficiency per ton freight units and 

passenger vehicles 

on our vessels.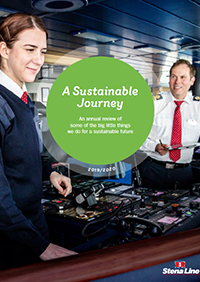 A Sustainable Journey 2019/2020
(4.2MB)
Our Sustainability Review of 2018/2019.